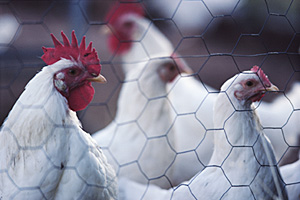 The two largest groupings of animals in confinement mortality insurance are poultry and swine. We actively quote and write both of these groups.
We can provide a custom valuation schedule for your egg layers so you don't have to overpay in premium. In addition, avian flu insurance coverage for poultry egg layers is a hot topic of conversation now. We have a wonderful policy to offer with broad avian flu coverages and can provide premium indications from our office.
Swine insurance policies are not written by many insurance companies. But Jerre Goff Insurance has two carriers including one with a broadened suffocation insurance coverage. Please call and let us tell you about these coverages and rates.
AND we would be very interested in talking with you about marine mammal and zoo animal mortality insurance.
Direct phone number: 317-209-4300 (EST)
Email: jerre.goff@gmail.com
CA Lic # 0H72836 / Insurance license in most states
Information Needed for a Quote | Exclusion and Limitation Notes
Get a quote by telephone today!
Livestock Confinement Insurance
Swine (includes suffocation}
Chicken egg layers / confined
Chicken egg layers / free range
Chicken meat / confined
Turkey / confined
Dairy cattle (manure pit poisoning coverage)
Livestock Confinement Insurance – Special Coverages Available
Special loss of earnings for chicken meat growers
"CCC" Care, Custody & Control coverage for swine and chicken growers
Contaminated feed or water coverage automatically included
Loss of Value Coverage for dairy cow no longer able to produce milk
Semen and Embryo Insurance
Frozen semen & embryo coverage – In storage
Frozen semen & embryo coverage – In transit
Semen & embryo suitability coverage
Blanket Herd Insurance
Cattle – Beef
Cattle – Dairy (loss of value coverage)
Cattle – Rodeo
Buffalo
Deer / Elk
Sheep / Goats
Swine
Alpaca
Livestock Hauling / Transportation Insurance
Cattle – Beef
Cattle – Dairy
Cattle – Rodeo
Buffalo
Deer / Elk
Sheep / Goats
Alpacas
Policy coverage forms are available